NELFTY...
Does the name alone bring back fond memories?
NELFTY Camp at White Pine, Tri-City, TCI-Debate, Conclave, and Winter Boards?
Songleaders, creative services, social action programs and skipping school on Friday so you can catch the O.D. Anderson bus to Toronto?
What's her name from Olean, your first kiss with that guy from Cleveland, 21 kids overnight at one house at a Canton intercity, or Terry Pollack yelling, "C'mon, let's go...the buses are upstairs"?
This site is for anyone who was active in NELFTY, from its beginning 'til today.
NELFTY sparked our Jewish identity. For many, that flame still burns. For others, this is a chance to rekindle that flame.
Come share the past, present and future with your old friends and the people who meant so much to you back then.
How You Can Help
This website continues to grow. But it still needs YOU, along with your old pictures, old rosters and new names for our Alumni Roster.
Be sure to check this website often to see who's recently found us and signed up. Better yet, you can help keep this site going by telling all your NELFTY friends to check out our website at www.nelfty.com.
Administrative Notes:
For your protection we have password-protected most of the pages accessible from the buttons to the left. The reason is to stop the 'bots from harvesting email addresses to be used for spam.
If you'd like to roam around the Alumni Roster and see who else has registered before you do so, yourself, we'd be happy to send you a temporary Username and Password. Or if you have any general questions, please send an inquiry to webmaster@nelfty.com.
If you were active in NFTY, you should register on the NFTY Alumni site so that all your old NFTY friends can find you. Their official site can be found by clicking here.
If you register as a "found" alum on the Alumni Roster and sometime later you want to go back and change your visible registration information (visible, that is, to the other alums), or if you want to change or add to the "What I've been doing all these years" portion of the roster, just send the information to: webmaster@nelfty.com.
Looking to plan a reunion? The software used to create this site is available for licensing. Contact us for more information! Site Hosting by Toucanhost.
Put Cleveland on the Map ®


NELFTY Puts Cleveland on the Map
The Cleveland Orchestra Puts Cleveland on the Map
The Cleveland International Film Festival Puts Cleveland on the Map
Put Cleveland on the Map is a registered trademark. All rights reserved 2014.
For more information: bhennesATgmail.com


NELFTY NEWS
At some point, we will migrate much/all of what's on this website over to Facebook. For the time being, though, we encourage all NELFTY alums to register on this website as a "found" alum (you can do so by clicking on the ALUMNI SURVEY button above). In this manner, we can more-easily contact you by graduation class, which is very handy when someone plans a reunion (as recently happened for the classes of 1987-93).
NELFTY CLASS REUNION NEWS
The NELFTY Classes of 1970-1973
held their last reunion
April 27-29, 2012 in

Cleveland

For ALL information about this reunion, please visit the NELFTY Reunion in Cleveland - NELFTY Classes of 70-73 reunion website on Facebook (Note: Facebook registration required).
NELFTY Reunion
(Classes of 1970 - 1973)
Cleveland, 1980
In 1980, the classes of 1970-1973 got together in Cleveland. You'll find the group photo below. Find out just who these people are (hint: that's Terry Pollack in the back row, center, with the madras shirt and moustache).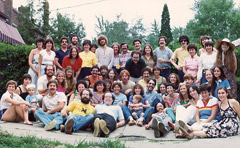 NELFTY Reunion
(Classes of 1969 - 1974)
Toronto, 2003
In 2003, the NELFTY classes of 1969-1974 got together in Toronto. Below, you'll see the group photo from that event.
Find out here who's in the photo below.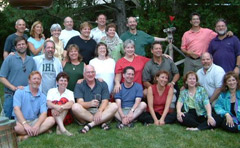 NELFTY Non-Reunion Reunion
(Late 1960's - Early 1970's)
Cleveland, 2007
In 2007, a group of us got together in Cleveland. It wasn't really an official reunion. We didn't cast the net very wide. But we ended up with quite a few people coming to town. You can see the photos here.


The NELFTY Classes of 1970-1973
held a "we're not getting any younger" reunion
May 14 - 16, 2010 in

Cleveland

To see a slew of photos and videos from this reunion, please visit the our reunion website on Facebook (Note: Facebook registration required). Once you're there, be sure to scroll down to the Facebook entries from May of 2010 to see a slew of photos and videos from that reunion.