In Search Of...
Can you help us find some "lost" NELFTYites?
The database below contains the names of NELFTYites who have not yet registered for our Alumni Roster on the www.nelfty.com site.
What we'd like you to do is to take names off the database and find these people on the Internet, find them by telephone, or even get hold of them thru their parents and ask that they register by taking our Alumni Survey.
The database is far from perfect. We took all of the rosters we had on hand (mostly from 1969 - 75 and gleaned the info from there.
Have a little more time on your hands? If so, perhaps you'd be willing to search hard for these missing NELFTYites by scouring some Internet-based databases.
These databases are all FREE:
---
You can access the database of"lost" NELFTYites below
If you click on "search" without entering any filtering data, you will be able to see the entire database sorted by last name.
If you click on the "temple/youth group" arrow and select a temple, then click on "search" you will only see lost NELFTYites from that particular temple.
Please be careful when selecting by "temple/youth group." The rosters we used were quite old and some of the data entry was a bit inconsistent. For instance, some lost NELFTYites are listed under "Niagara Falls" and others are listed under "Niagara Falls Beth El." The two lists are not the same and you will need to search both to find your friends from that temple.
---
If you have comments or questions concerning the website, please send email to webmaster@nelfty.com
NELFTY Reunion
(Classes of 1970 - 1973)
Cleveland, 1980
To our knowledge, there have been only two NELFTY reunions. In 1980, the classes of 1970-1973 got together in Cleveland. You'll find the group photo below. Find out just who these people are (hint: that's Terry Pollack in the back row, center, with the madras shirt and moustache).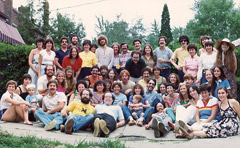 NELFTY Reunion
(Classes of 1969 - 1974)
Toronto, 2003
In 2003, the NELFTY classes of 1969-1974 got together in Toronto. Below, you'll see the group photo from that event.
Find out here who's in the photo below.